UPTOWN'S ENVIRONMENTALLY FRIENDLY PROGRAM THAT ENCOURAGES SUSTAINABLE
TRANSPORTATION ALTERNATIVES — MAKING PUBLIC TRANSIT, WALKING AND CYCLING
MORE ACCESSIBLE, CONVENIENT AND FEASIBLE.
Increasing Convenience
Upgrading of Transit Bus Stops in the Town Centre area with new weather protected bus shelters and passenger information systems have added to the convenience of taking public transit. In addition, the pedestrian connections between the transit stops located around Uptown have been strengthened to improve transit passenger linkage to the centre.
Pedestrian Friendly Access
New and upgraded sidewalks and new traffic signal installations with signal protected crosswalks have made Uptown safe and easy to access from the many surrounding walking trails and neighbourhoods.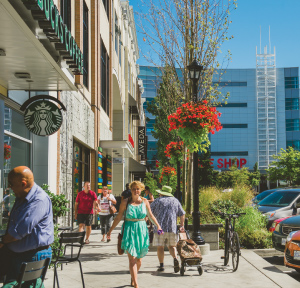 UPTOWN'S ENVIRONMENTALLY FRIENDLY PROGRAM THAT ENCOURAGES SUSTAINABLE TRANSPORTATION ALTERNATIVES — MAKING PUBLIC TRANSIT, WALKING AND CYCLING MORE ACCESSIBLE,  CONVENIENT AND FEASIBLE.
Visiting by Bike
Consumer visits to Uptown via cycling are facilitated by designated bicycle lanes on Saanich Road and Douglas Street, a new traffic signal protected crossing of Carey Road at the Ravine Way intersection and improved access from the Galloping Goose Trail to the Carey/Ravine intersection connecting to Uptown. In addition on-site bicycle storage facilities include 112 conveniently located and highly visible bicycle
racks, covered bicycle storage shelters and secured bicycle storage lockers for longer-term use by employees.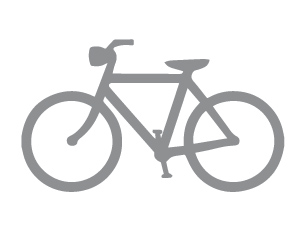 UPTOWN IS CONSCIENTIOUS OF THEIR DAILY PRACTICES TO ENSURE SUSTAINABILITY
From chemical-free weed control to energy-efficient installations, Uptown strives to make its day-to-day operations an example
to follow when it comes to responsibility in retail.
Cleaning contractors use recycled paper products and "green" cleaners where practical and effective.
Site lighting is managed by the design built control systems in place and utilize the most efficient lighting products available at time of design.
CFL and Fluorescent lighting products are fully recycled.
HVAC controls are carefully managed to ensure maximum efficiency using a fully programmable Building Management System.
Styrofoam is source separated and collected by a recycle contractor for processing.
Hand watering is used for all non irrigated plant material and all irrigated material is managed by a fully programmable controller.
Weed control and pest management is conducted in a chemical free manner.
Rain water harvesting is utilized for selective landscape areas when available.
Additional landscape and Seasonal lighting utilizes LED and CFL products where practical.
Waste and recycle handling is managed using a fully electric vehicle manufactured on Vancouver Island.
Tenant improvement construction waste is separated into individual recycle components as part of a total waste and recycle management program.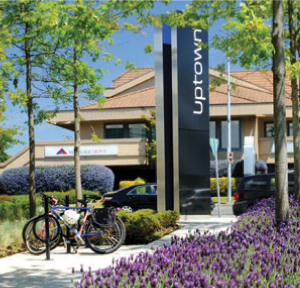 Leadership in Energy and Environmental Design (LEED) is an internationally recognized building certification program. It provides certification that a building was designed and built using energy and water efficiently reduction and environmentally responsible resources.
Uptown is located at the nexus of the major regional highway systems and transit routes serving Southern Vancouver Island, allowing tenants and visitors to easily access it's shops, offices and services. For those who wish to walk or bike, it is directly connected to the picturesque Galloping Goose trail. Uptown's proximity to homes and schools also helps reduce the distances travelled by vehicles, which in turn reduces the impact on the environment.
The benefits of LEED Gold designation extend to tenants as well. On top of the savings in energy and resources, they'll enjoy lower operation and maintenance costs, and the potential for employee productivity improvements due to more comfortable working conditions.
Uptown incorporates innovative technology, energy-efficient street lighting, and rainwater harvesting along with high-efficiency irrigation systems.
Sustainability features include:
Proper disposal and recycling of materials from the deconstruction of Town & Country
Recycled materials are used wherever possible
Community input is incorporated on an on-going basis
Light pollution reduction lowers glare, reduces light trespass, and uses less energy
Design will allow for an abundance of natural light
Low flow water fixtures will be installed to reduce water use
Green roof technology, combined with reflective and light-coloured rooftop surfaces, will reduce any heat island effect, and lower energy consumption by reducing demand for air conditioning
At least 50% of electricity will be provided by renewable sources
Permanent C02 monitoring system is installed to permanently oversee air quality
Thermal comfort design will provide peace of mind
Dedicated recycling will be constructed
Low flow fixtures are used
Operable windows in the office spaces provides fresh air on demand, reducing energy consumption